Directions to Grand Master Hwang's Golf Classic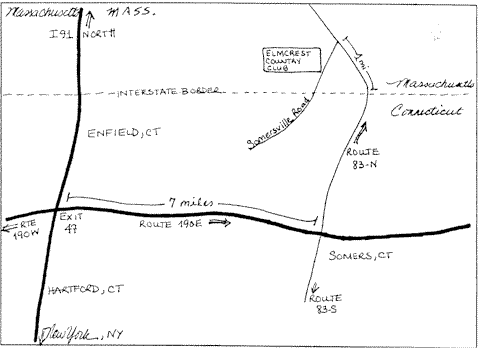 Traveling form New York
Take Route 684 to I-84 East. From I-84 East, take I-91 North (Hartford, CT). Follow directions below for traveling north from Hartford
-or-
Take I-95 North (new Haven, CT) to I91 North (Hartford, CT). Follow the directions below for traveling north from Hartford.
Traveling from Hartford
Take Route I-91 North from Hartford. Take Exit 47EAst onto Route 190 for approximately 7 miles, to Somers CT. Take a left onto Route 83North for approximately 1 mile. After the Massachusetts border, take a left onto Somersville Road. Follow the signs for Elmcrest Country Club
Note: if you pass two greenhouses, you have missed your turn.
Elmcrest Country Club
105 Somersville Road
East Longmeadow, MA 01028
(413) 525-8444